Say you have a bunch of open groups or you've performed a search and you want to see all the file names but not the places where the search query is found.
You can select all with ⌘ + a then hit the left arrow to close everything or the right arrow to open everything.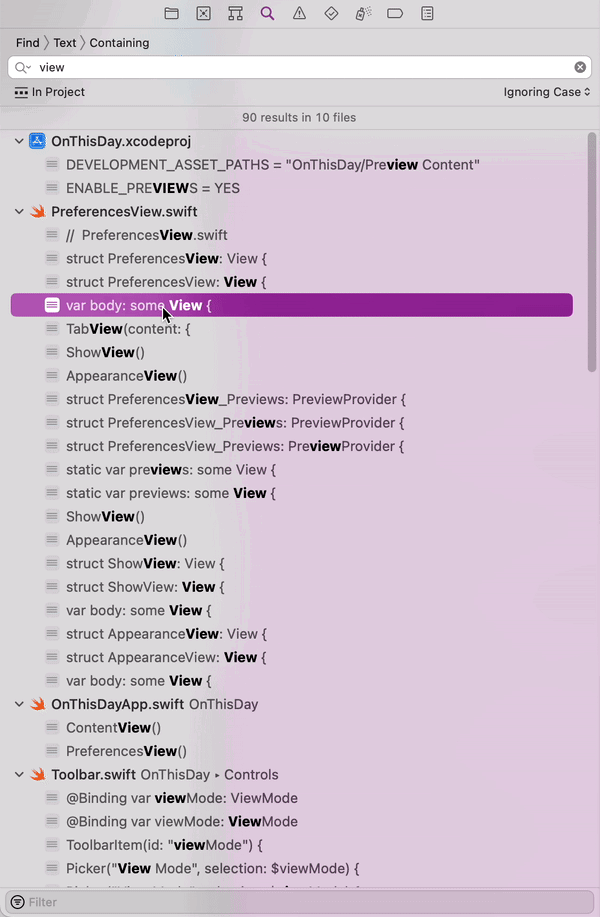 Use the emoji picker using the function key (🌐) and search for these strings then add to favorites to make them easier to find in the future.
place of interest → ⌘ [Command]
option → ⌥ [Option]
arrowhead → ⌃ [Control]
upwards white arrow → ⇧ [Shift]
upwards white arrow from bar → ⇪ [Caps Lock]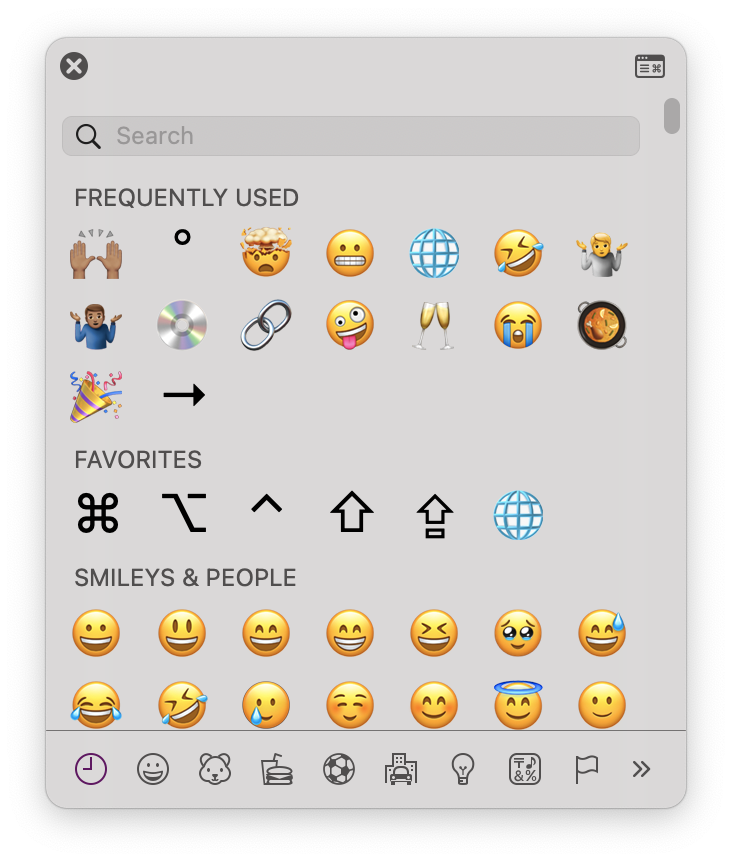 This lists apps from a named simulator, converts to json, then finds non-apple apps.
xcrun simctl listapps "iPad Air (5th generation)" \
| plutil -convert json -o - -- - \
| jq '. | keys | .[] | select(. | startswith("com.apple") | not)'

This requires that you know the name of your simulator and have jq installed.
You can also replace the device name with booted if you want, but I prefer to use the name of the simulator.
Here are the docs for using a simulator name versus booted for simctl.
For subcommands that require a <device> argument, you may specify a device UDID
or the special "booted" string which will cause simctl to pick a booted device.
If multiple devices are booted when the "booted" device is selected, simctl
will choose one of them.

Note: as far as I can tell, there are no docs for listapps or even anything stating its existence in the man page for simctl.
Before I left Missouri I stopped at my in-laws and noticed that their flowers were blooming so here's a pick of some hyacinths. Not sure why theirs bloomed and ours didn't because we planted them all the same weekend.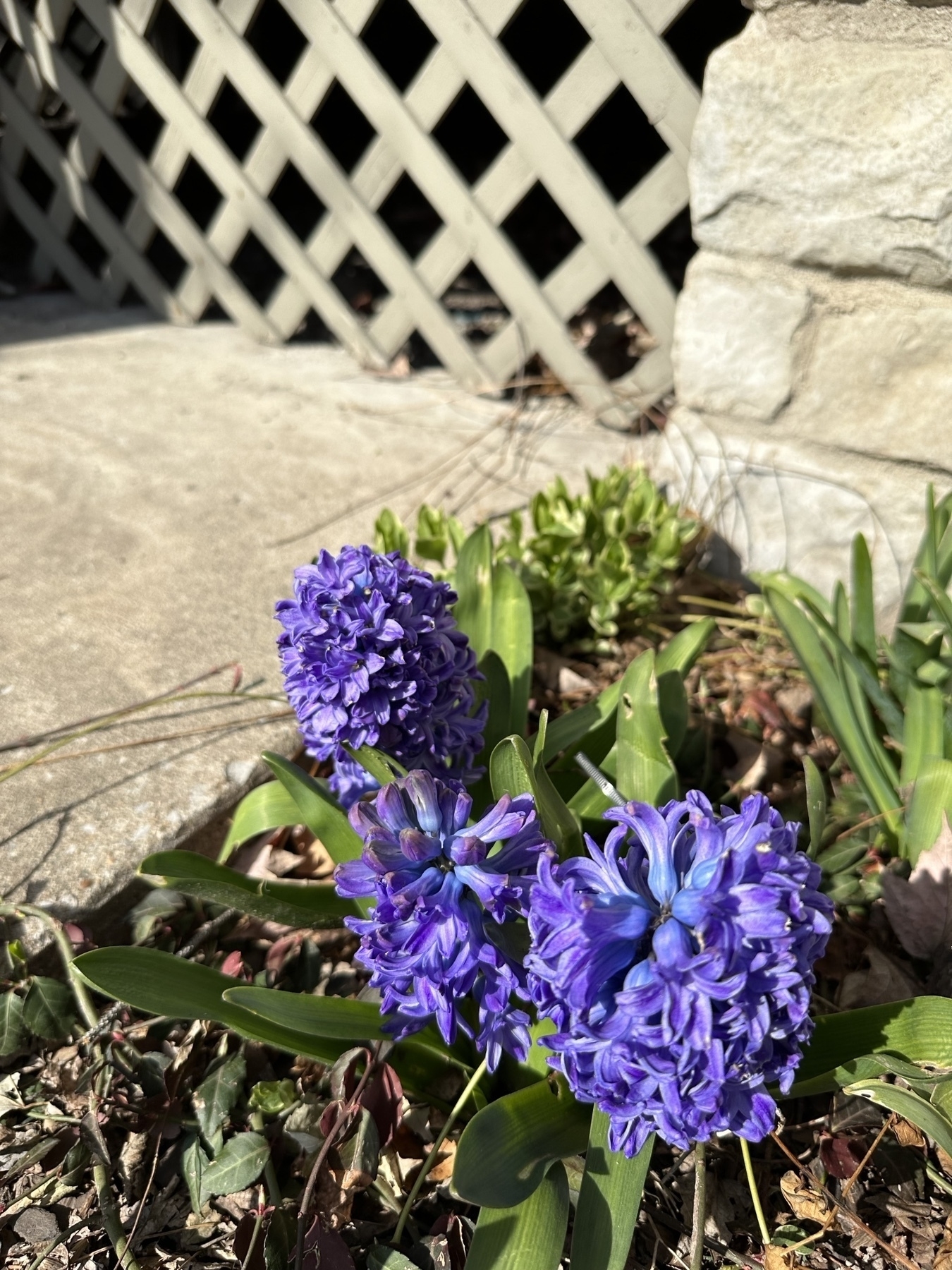 The flowers are coming. Shame I won't see them when they're in full bloom. I also realized the thing I thought was a tulip is a hyacinth.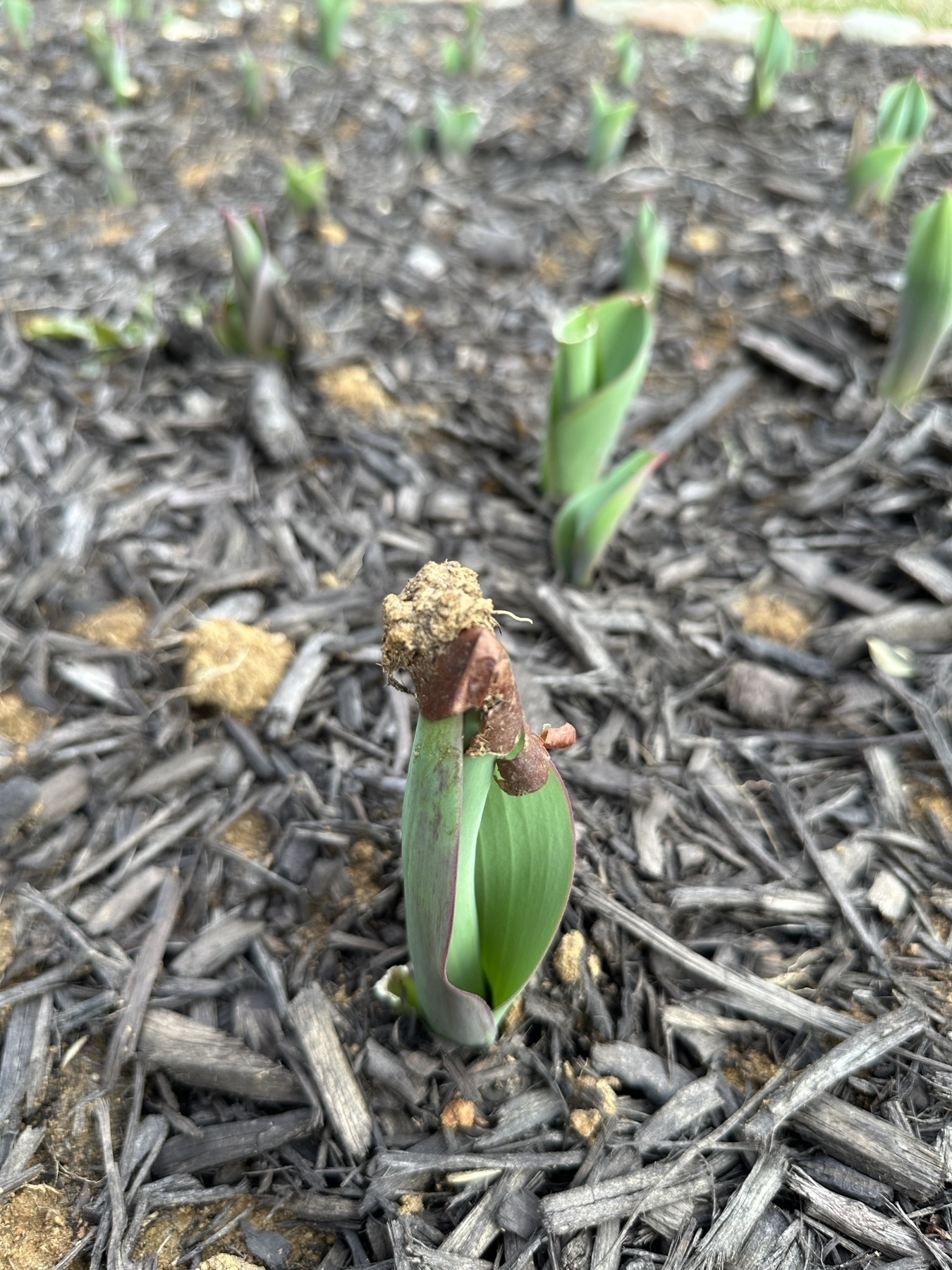 Apparently chives will grow back after seemingly dying during the start of winter.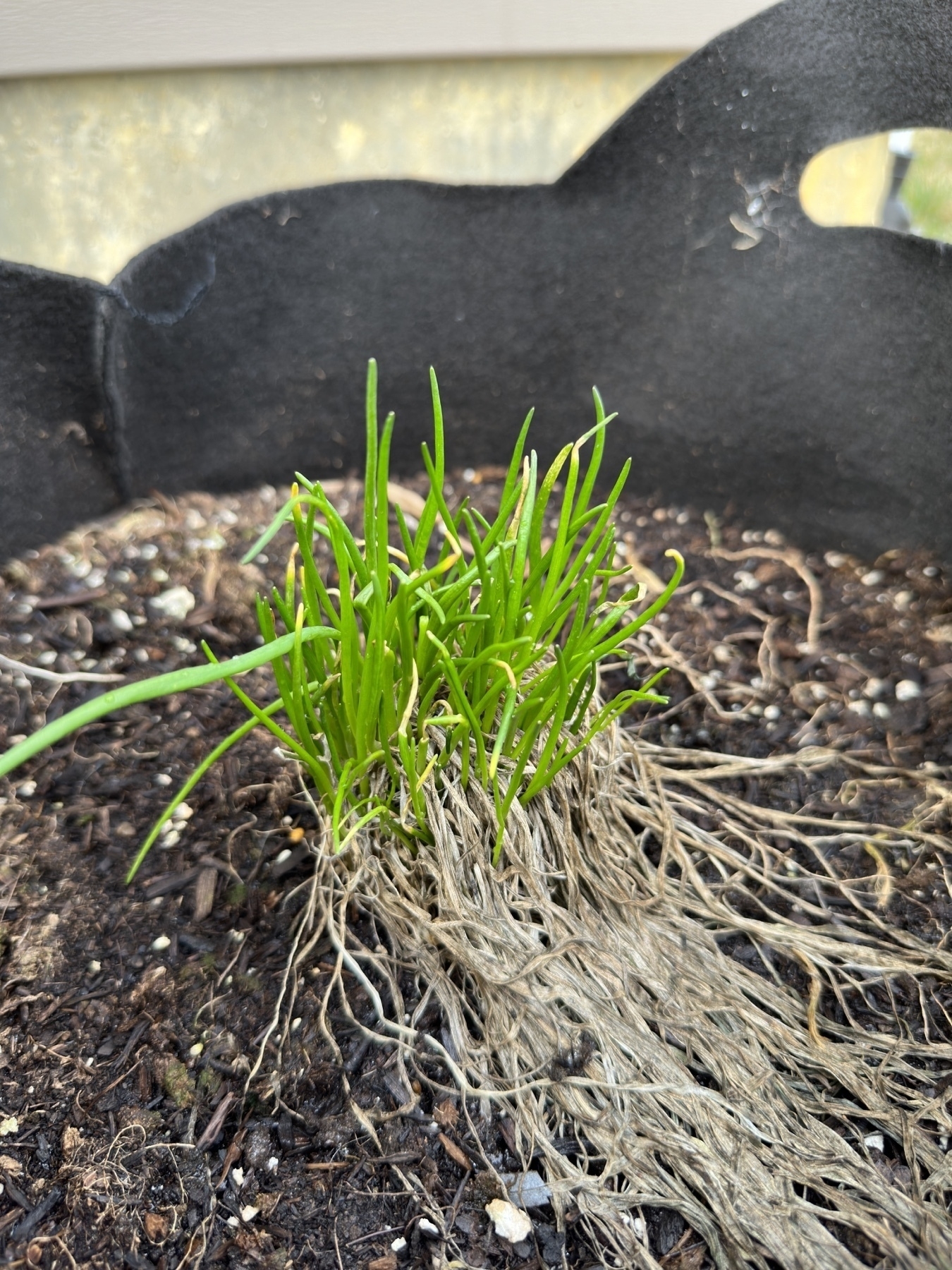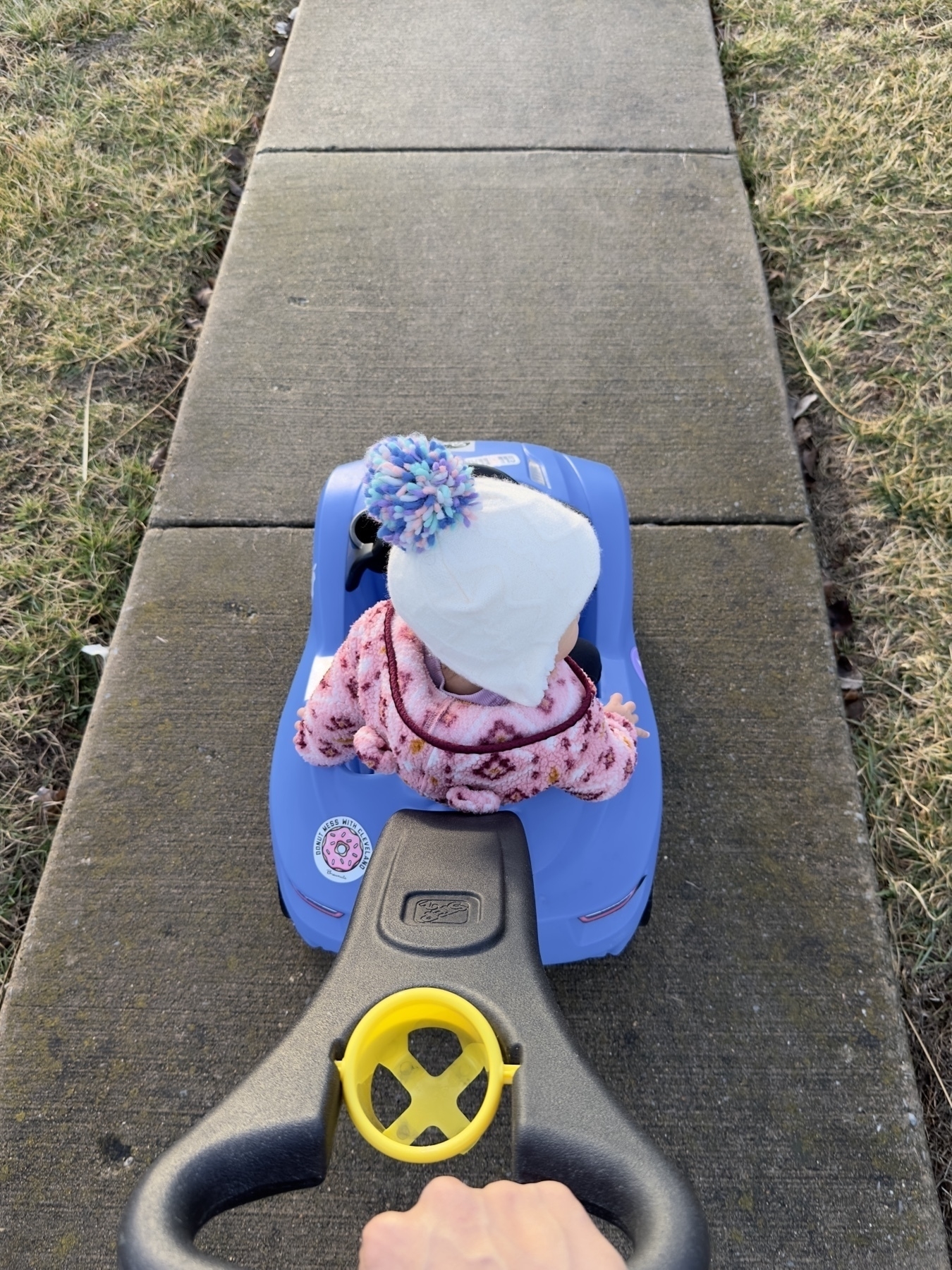 Tulip and a daffodil peeking through.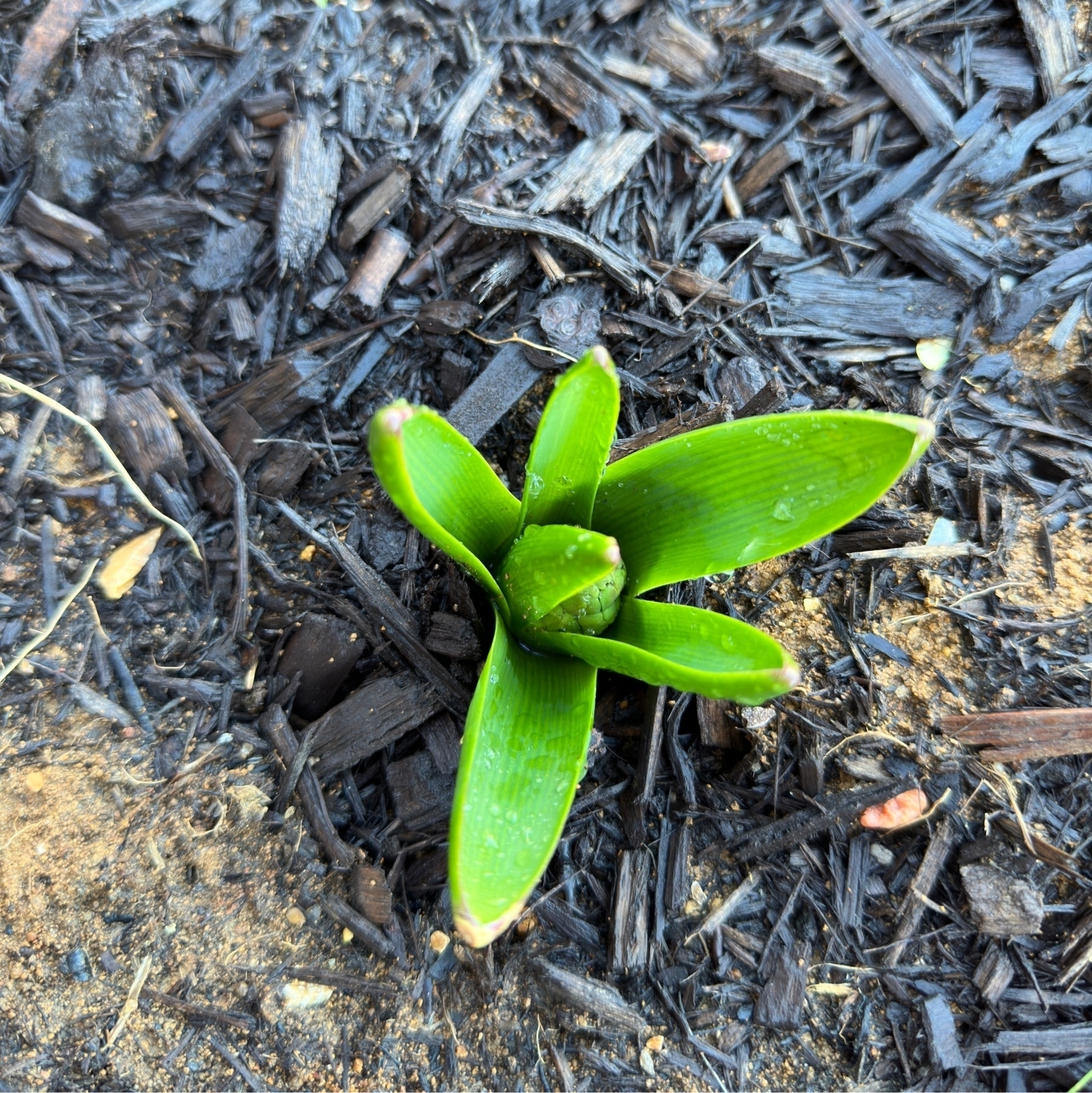 This is a strawberry cheesecake croissant.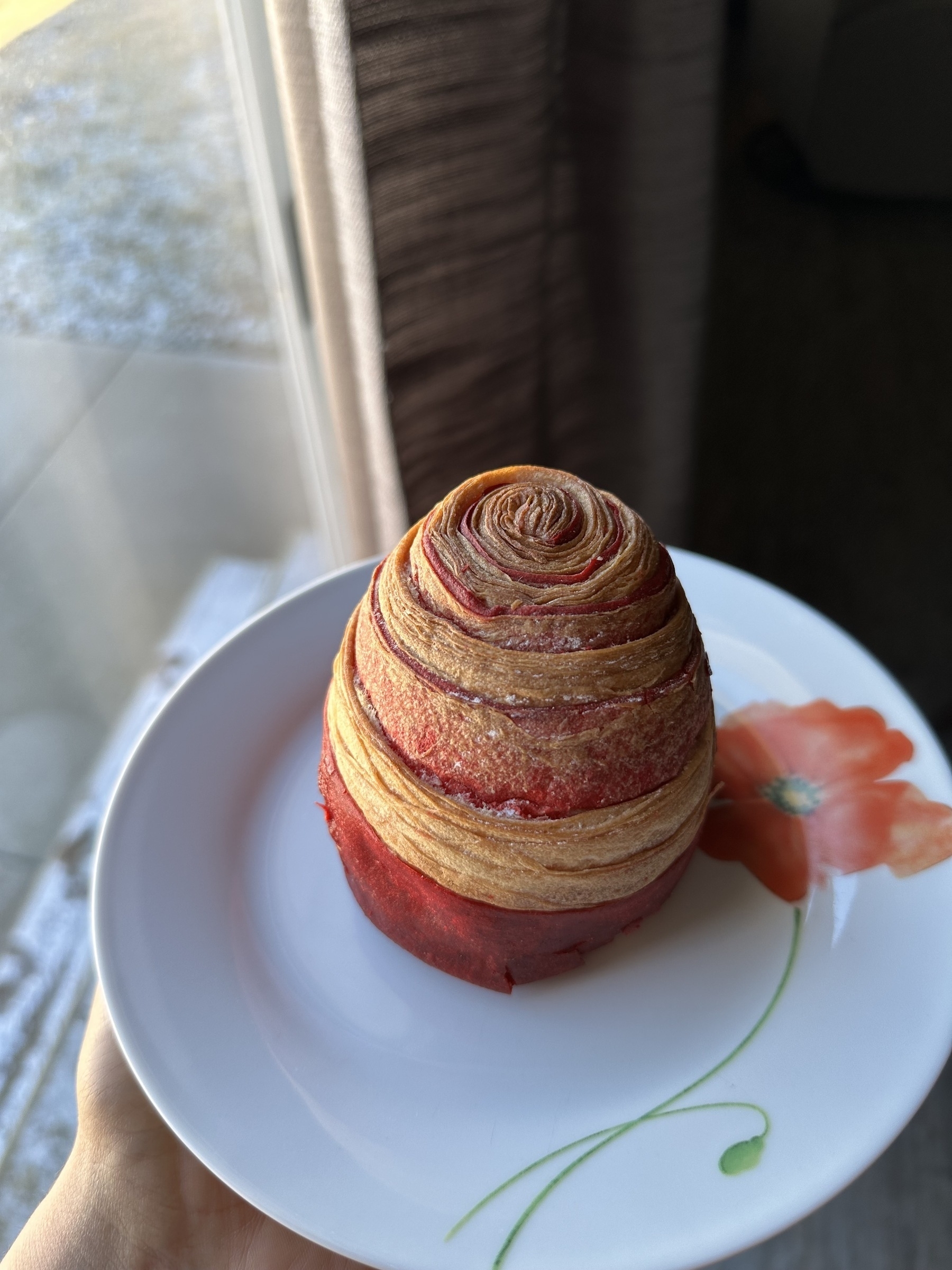 And here is a shot of the inside.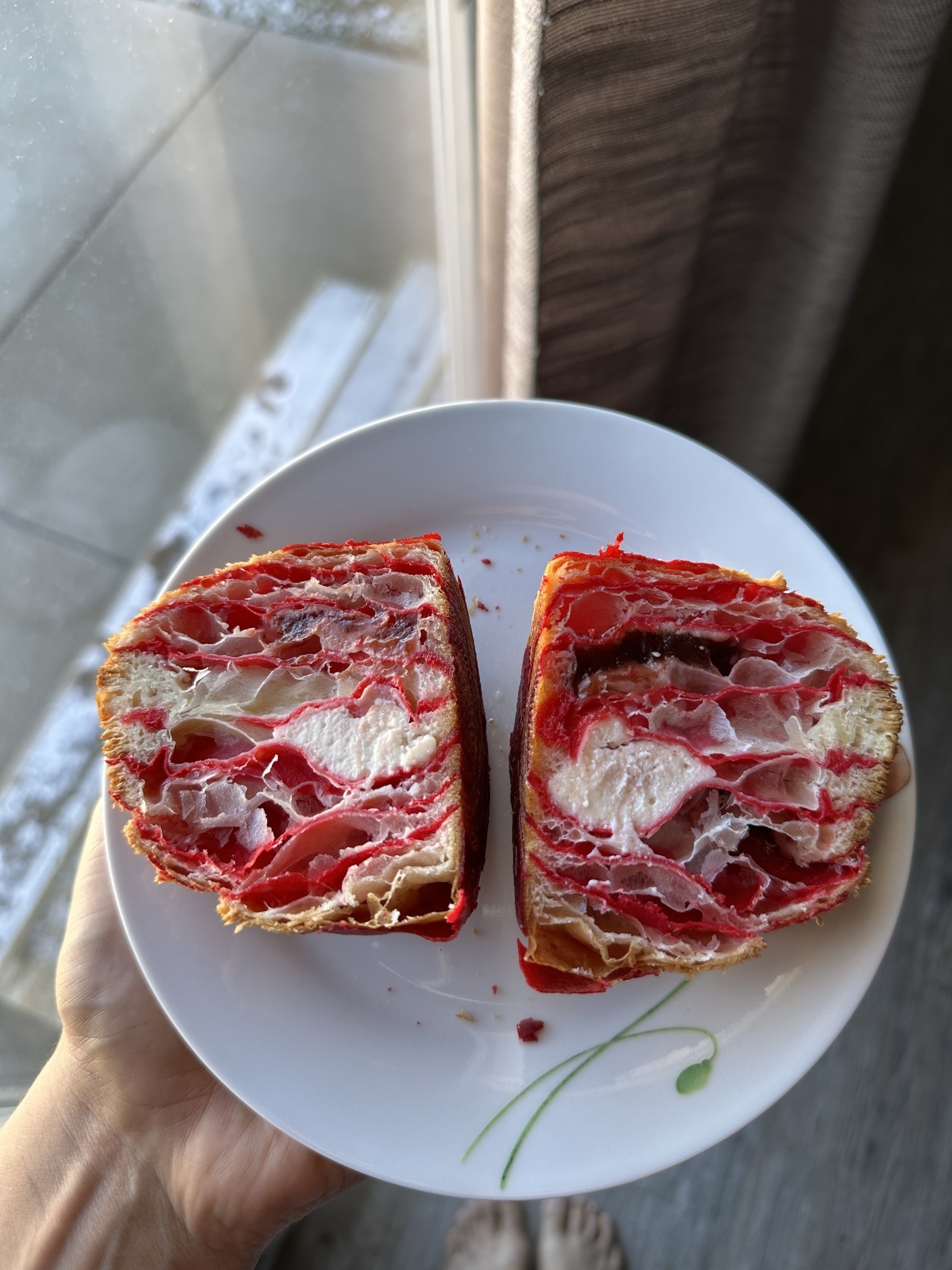 She ordered them from L'Artisane Bakery in Florida and I would highly recommend you do the same if you live in the United States.
We also got chocolate and chocolate with hazelnut so I'll probably takes photos of those when we eat them.
The tulips are awakening.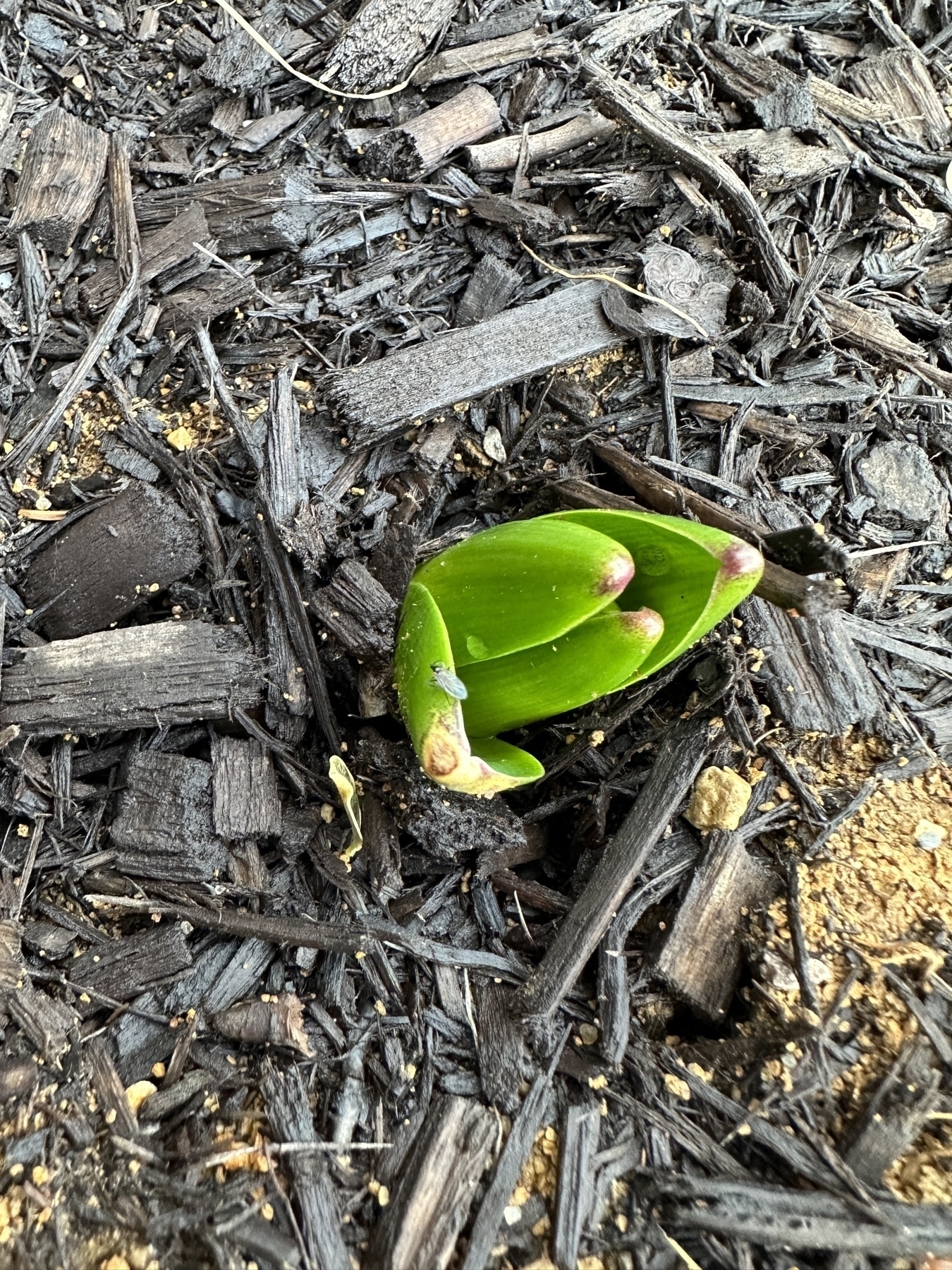 I took a lot more photos but here are some that I liked.
535 Mission Street where the Zillow office is located.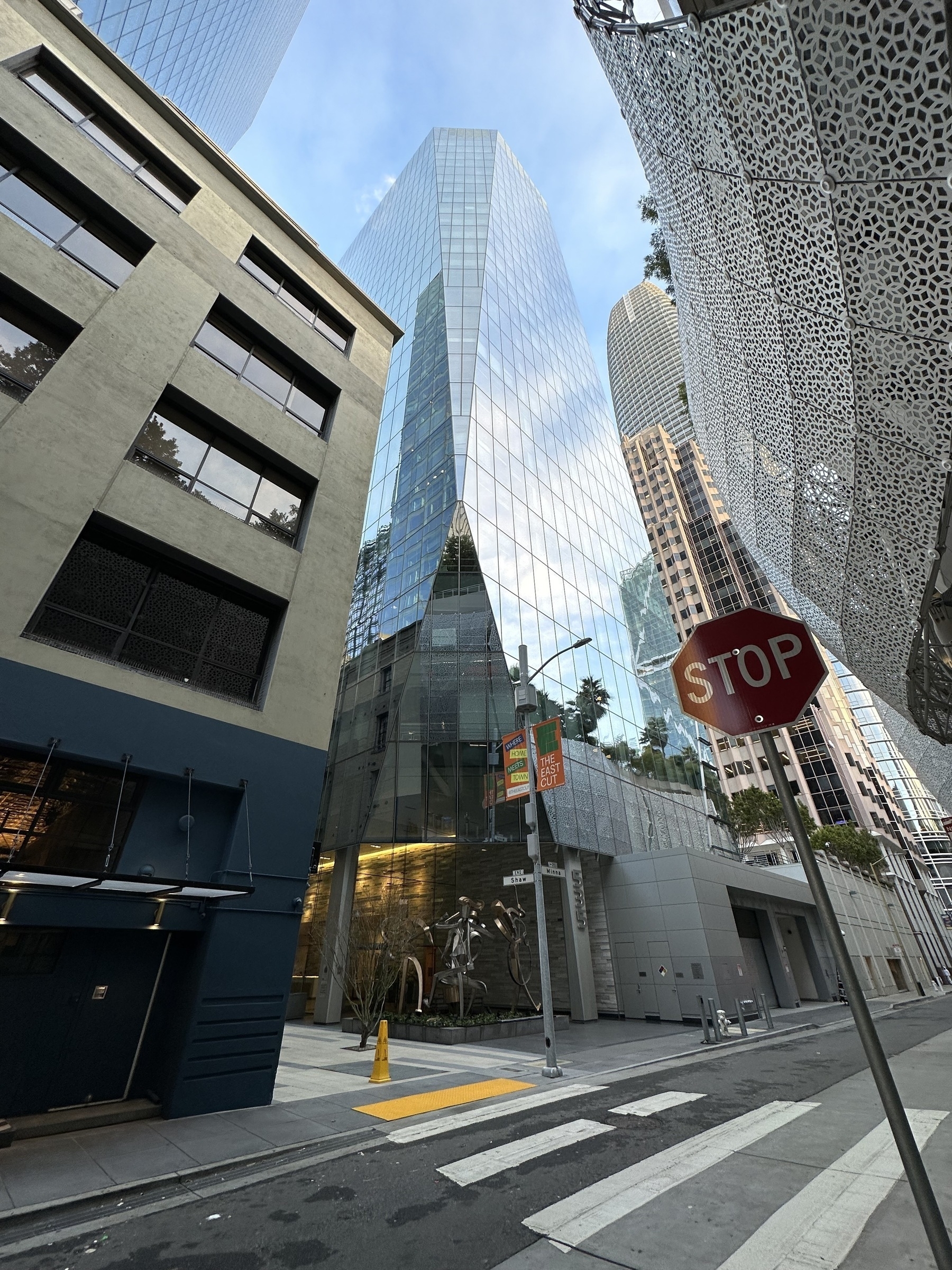 View from my hotel, the Marriott Marquis.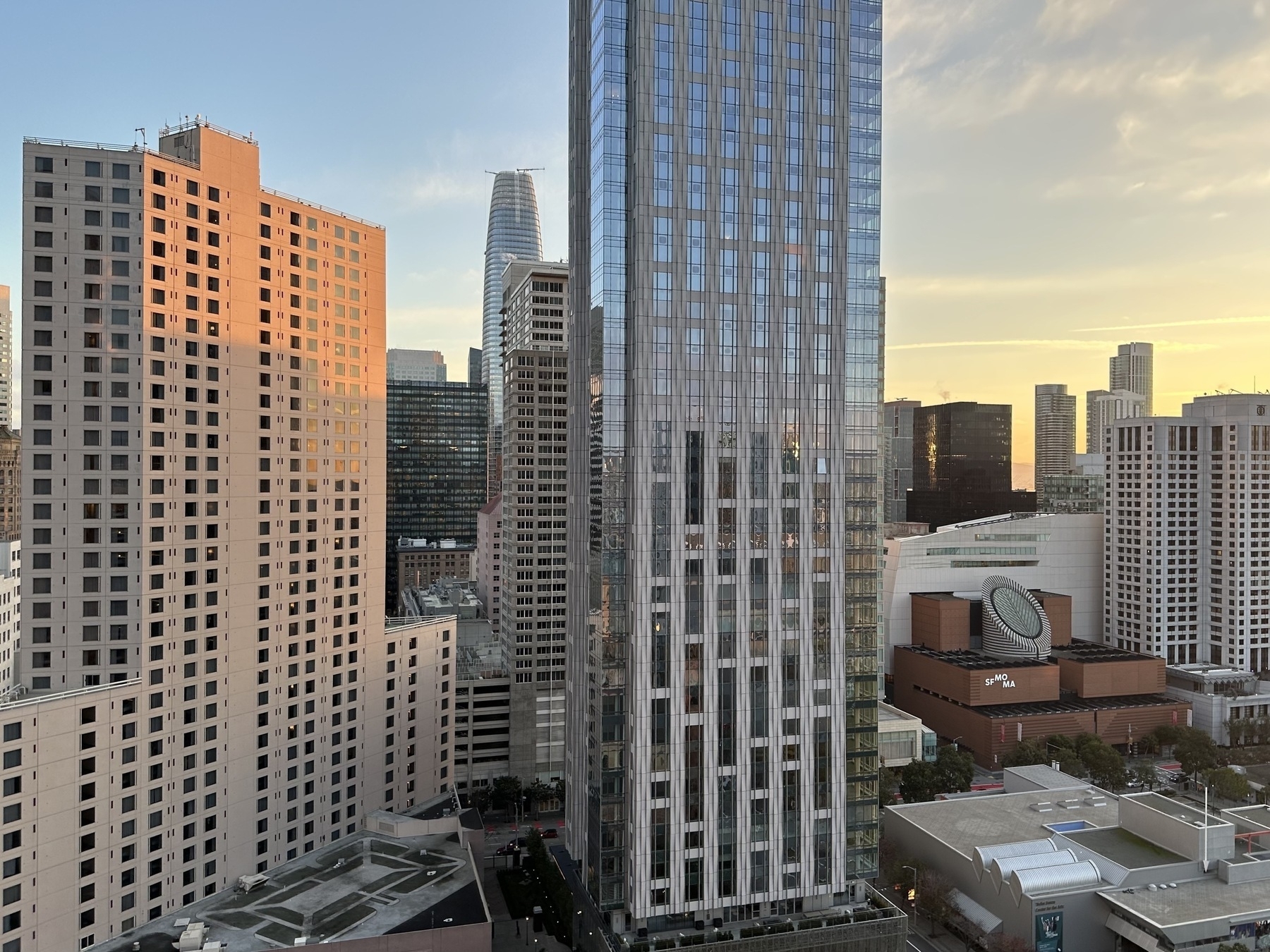 View from my office towards the SF Ferry Building.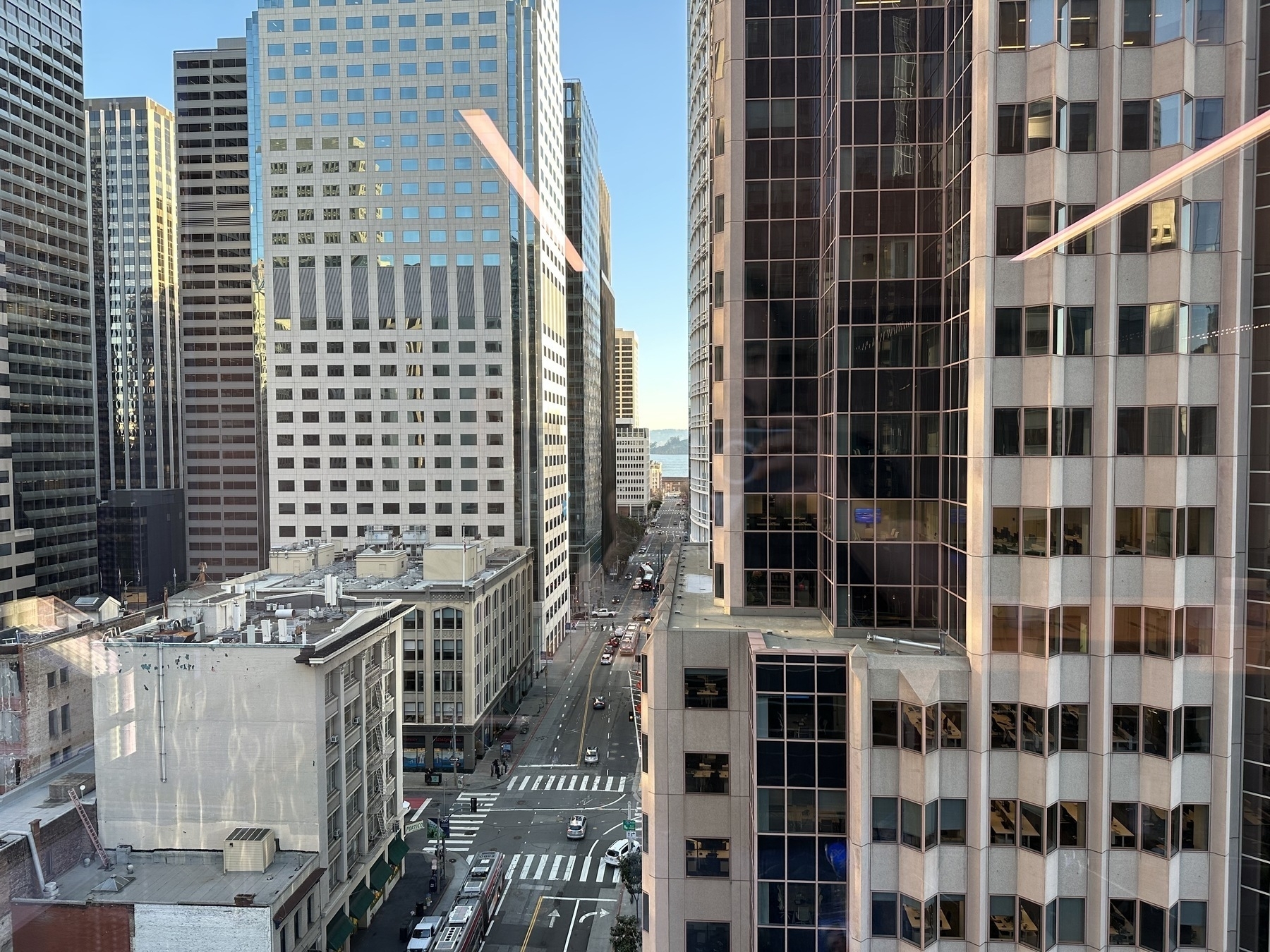 The Salesforce Building is like one block from my office. Ugly and gigantic.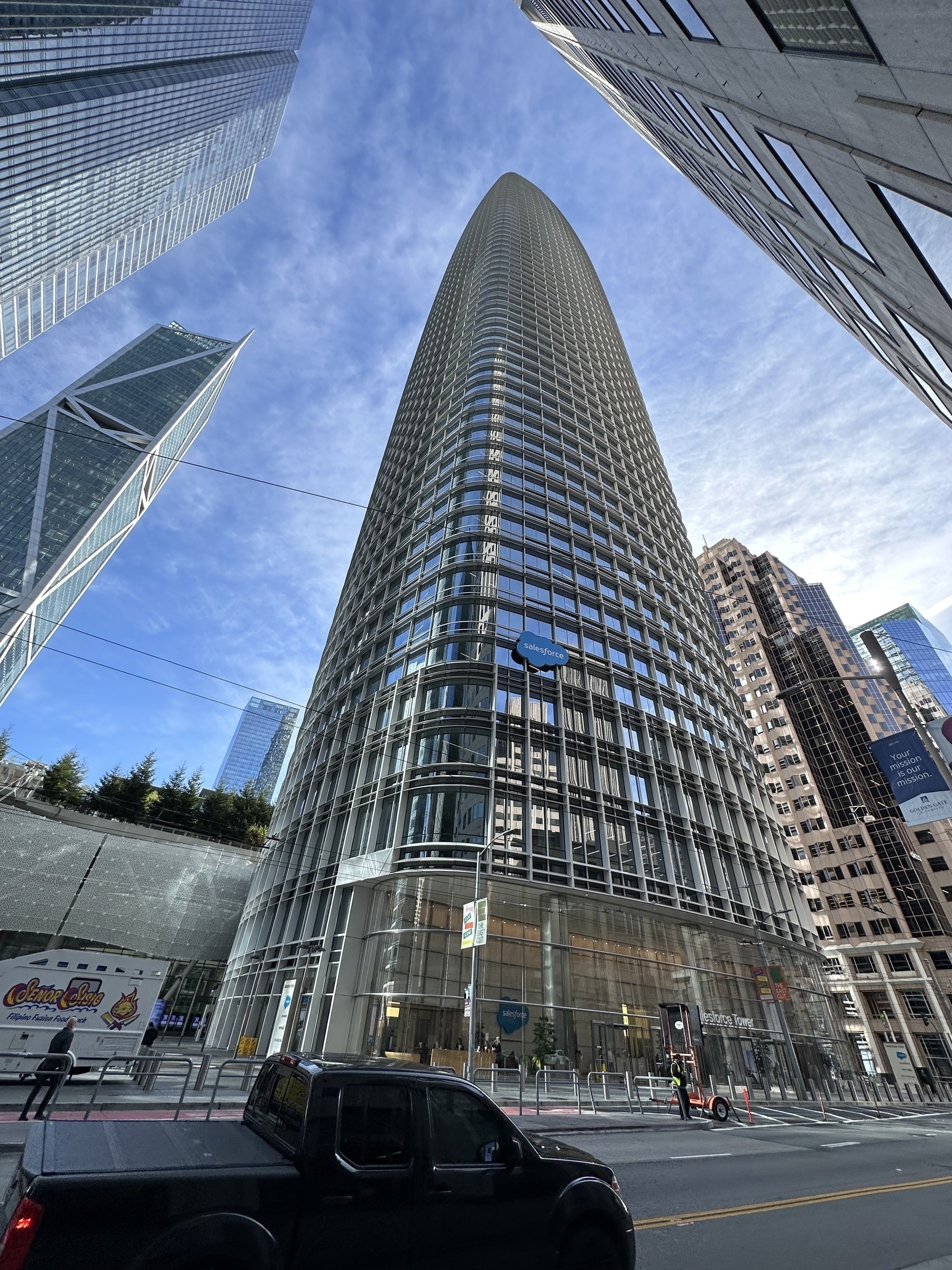 Flying home over the Ozarks.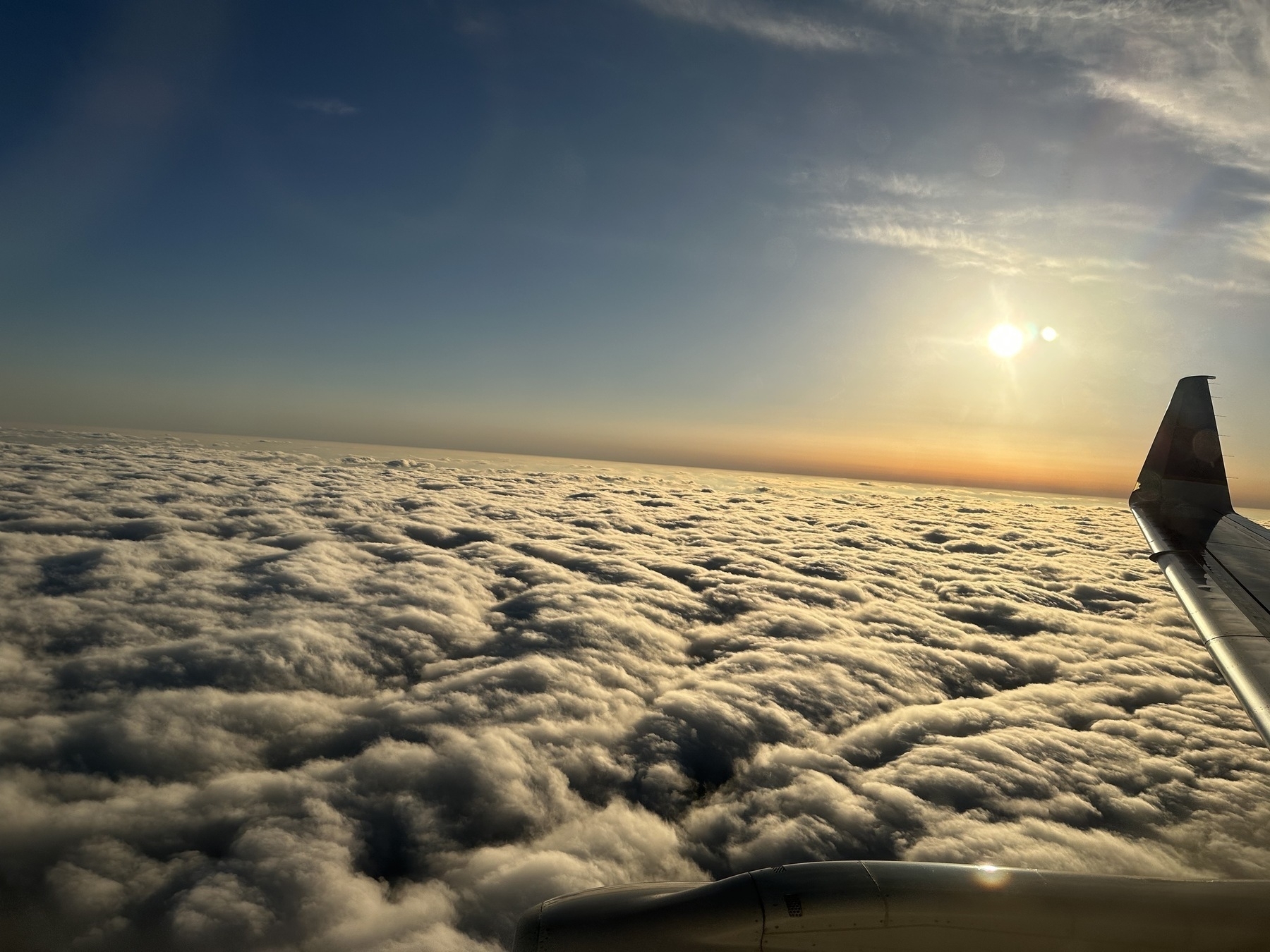 I tend not to use tabs and instead have a bunch of windows so I originally wanted to know how I could set my window title bar to show the current path, but in this post I'll share how to do both in iTerm2.
Here is a screenshot of the iTerm2 Preferences window showing Profiles -> Window.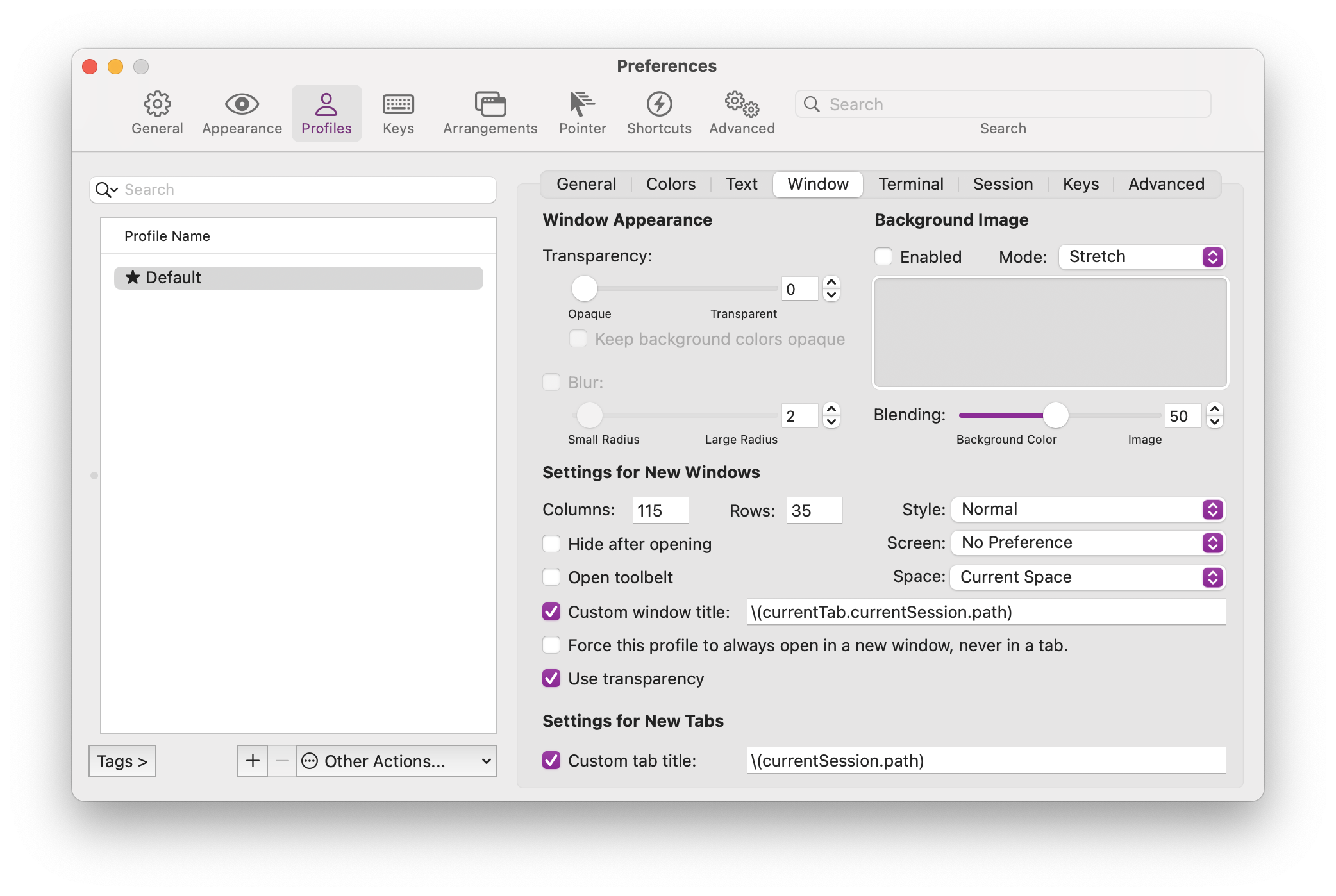 For custom window title you'll set \(currentTab.currentSession.path).
For custom tab title you'll set \(currentSession.path).
And that's it!
Here's what it would look like in iTerm2: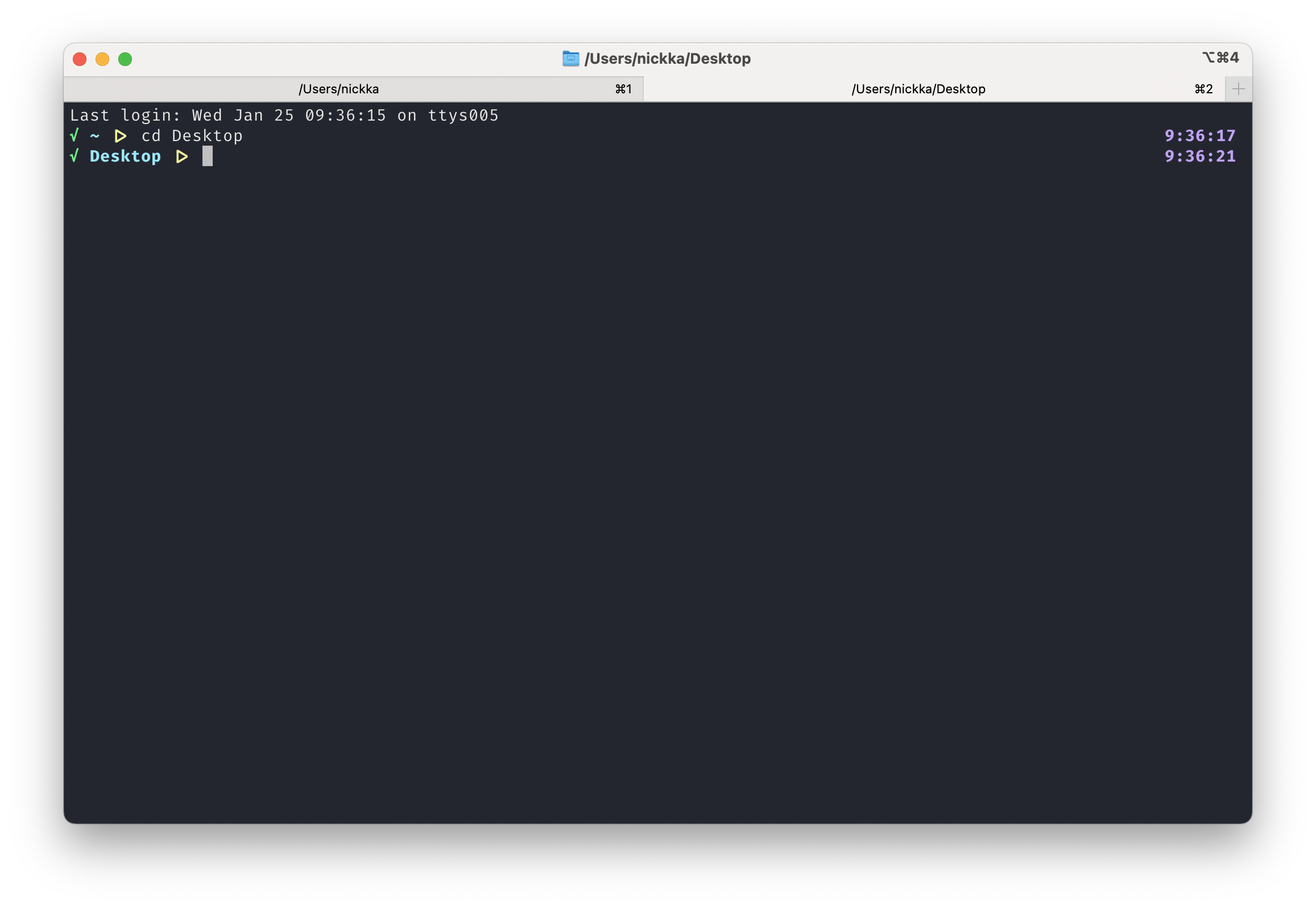 And here's the Stack Overflow question I found that solved this for me. Wanted to blog about it so that I remember how to do this in the future.
Pretty little starling.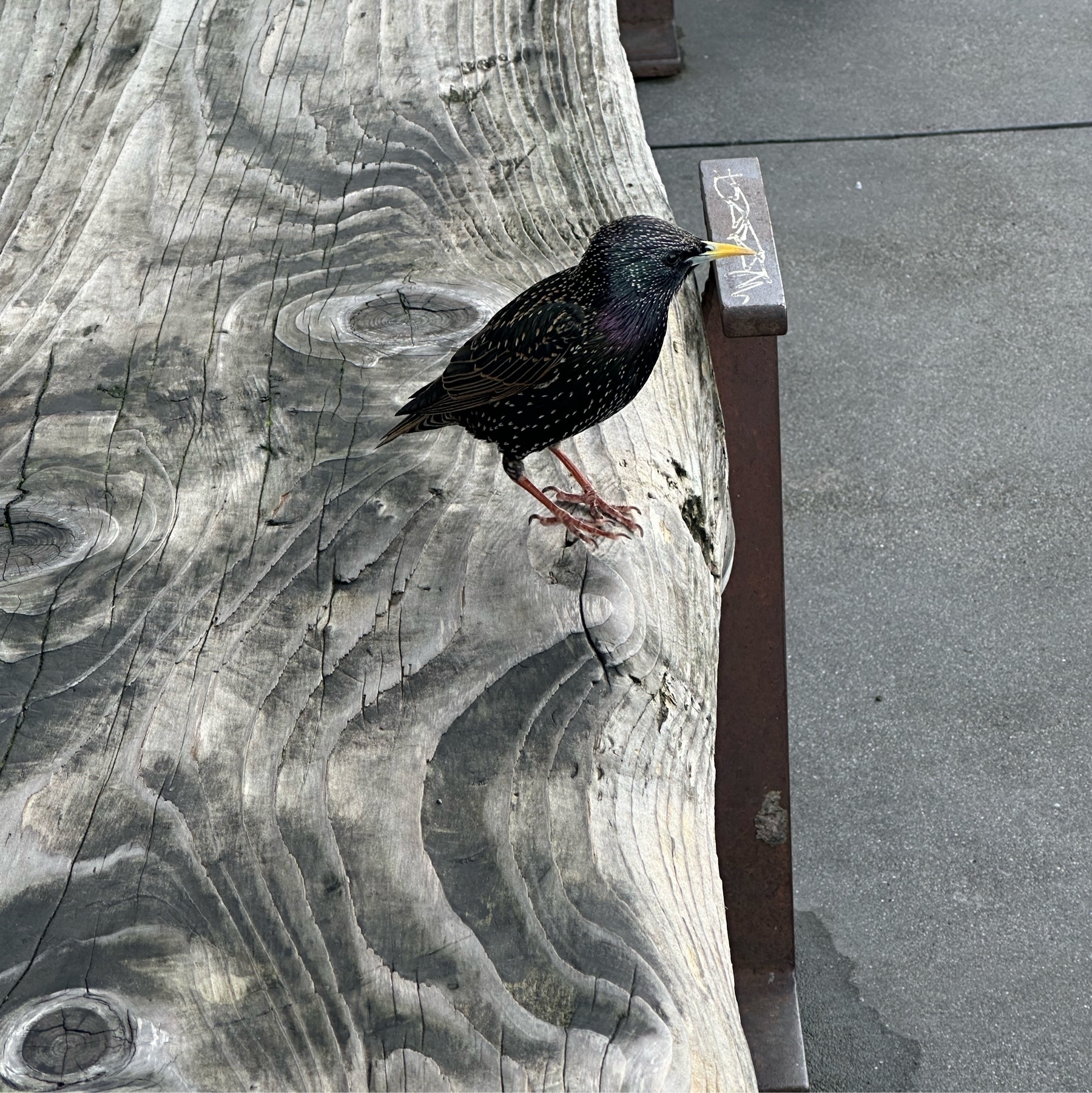 Made it to Coit Tower. 300ft elevation of stairs is surprisingly exhausting.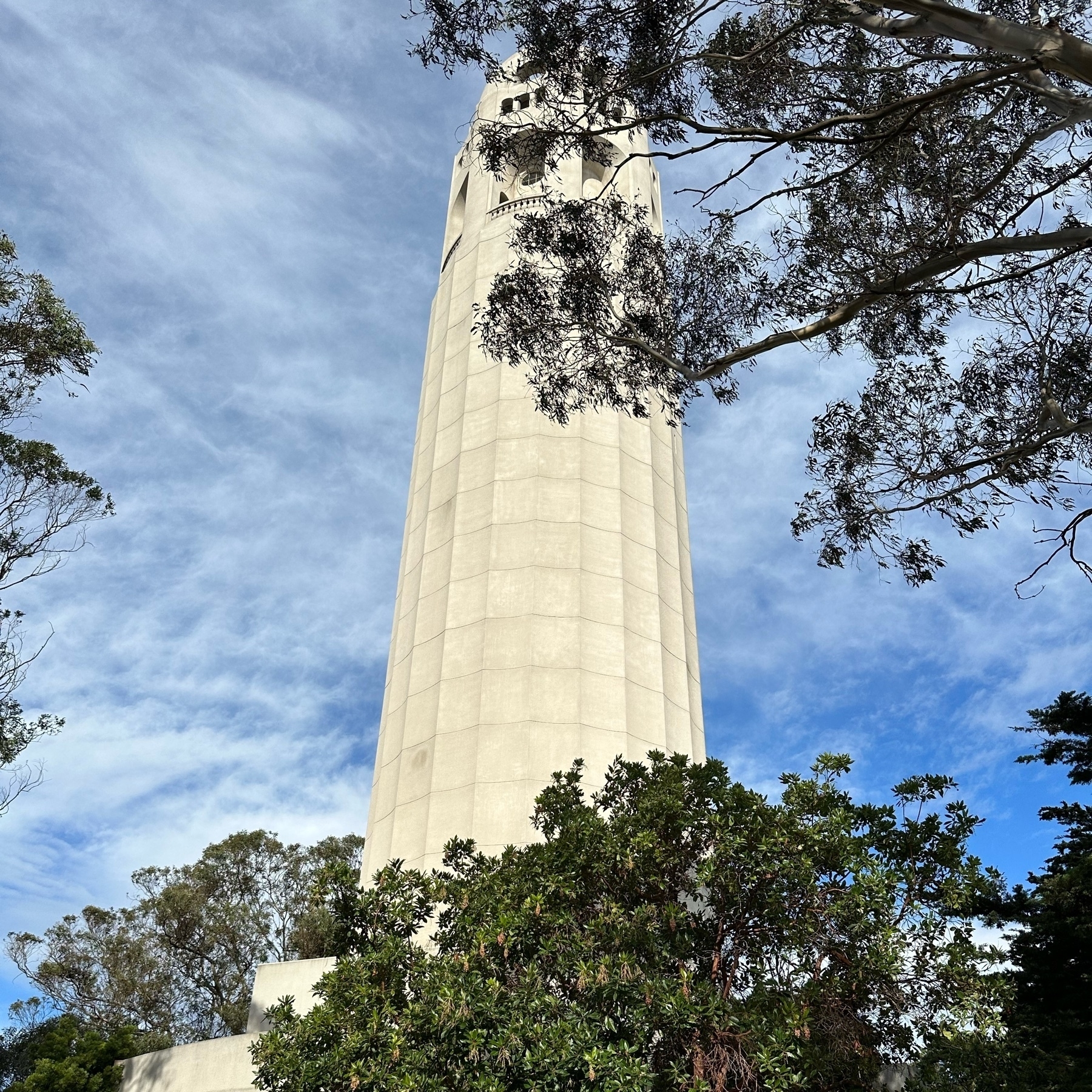 Temporary nice day in SF.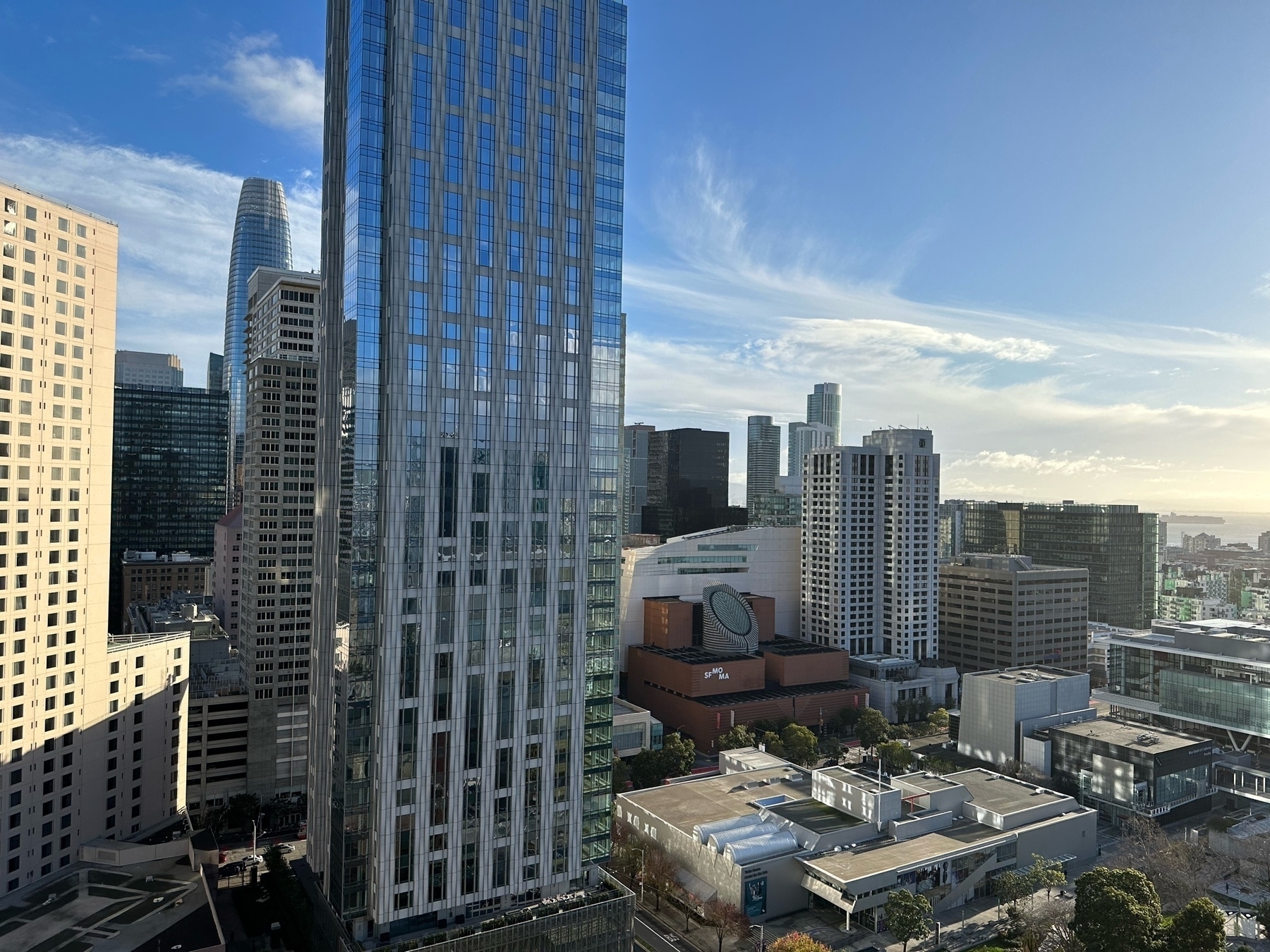 In my previous life I used a tool with VSCode called GitLens. What it does is show you what the last git commit for a selected line was. When you hovered over the greyed out text to the right of your code line, you'd get a little popover with more info about the commit. This is a really handy tool for quickly figuring out who made what change and when.

Today I work mostly in Xcode and sadly Xcode doesn't have this extension nor support this feature. It does however have something that shows you who changed each line and a brief commit message to try to provide some insight.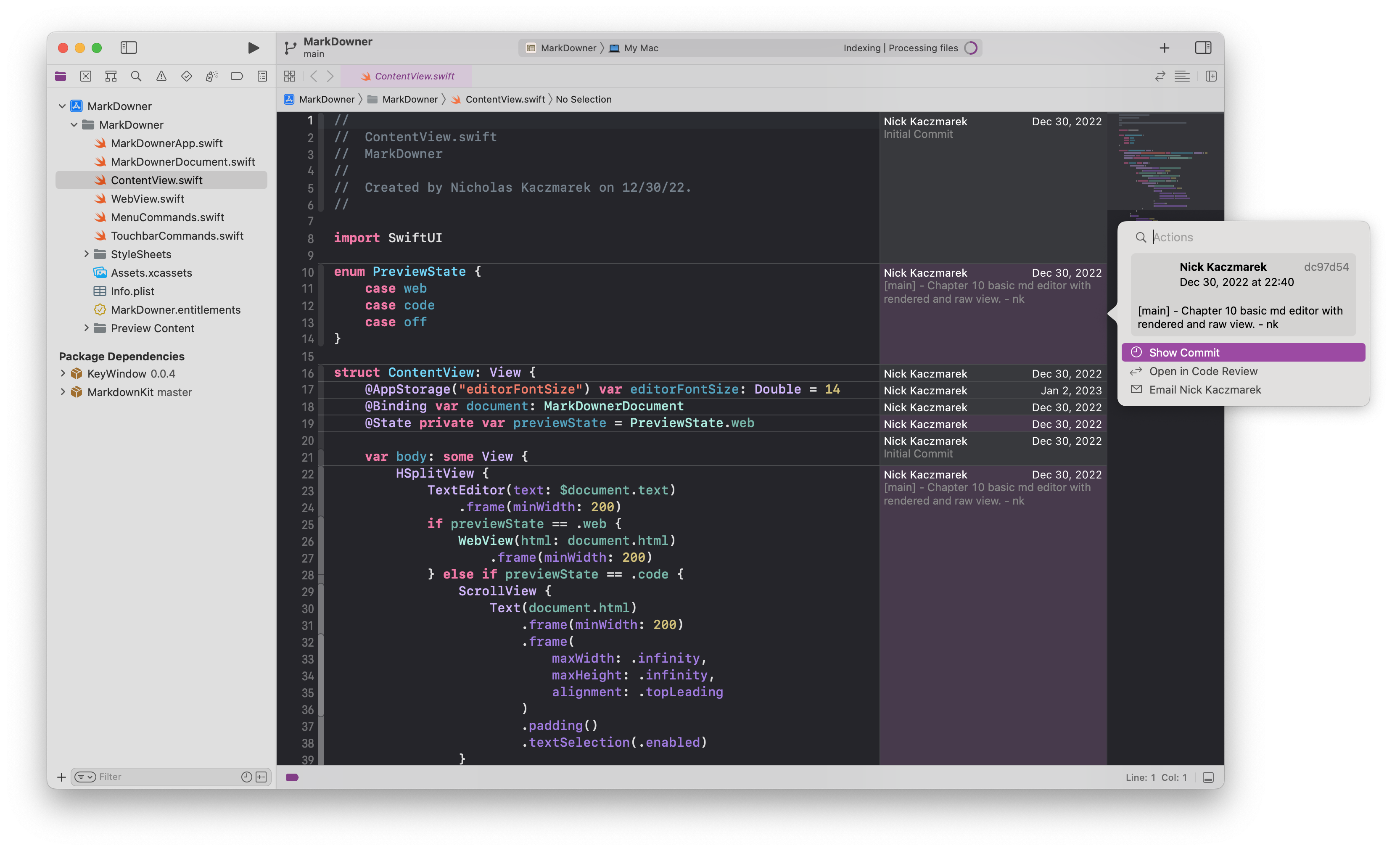 You can access this with ctrl + shift + cmd + A or find it in the Editor Menu for Xcode.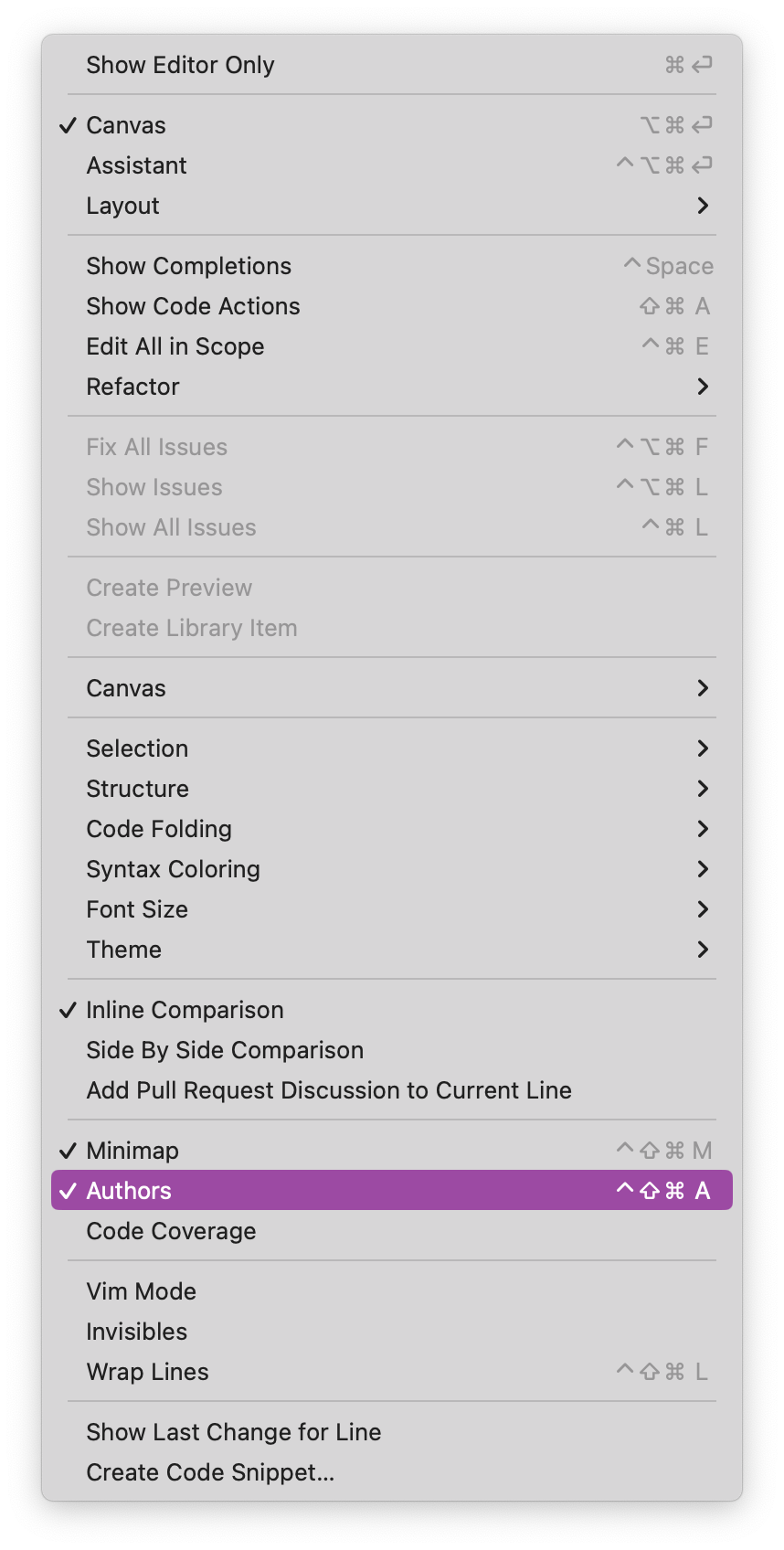 I am part of a ton of channels at work and sometimes I need to check them and sometimes I don't. Normally I scroll through all of them with cmd + K to mark them as read. Today I learned that you can do Shift + Esc to mark all channels as read.
Made some tasty nachos the other day. You can't really tell, but this was half a sheet pan of nachos.
I don't like to complain on the internet, but I find it interesting that UPS delivered my multi thousand dollar mac studio without a signature however my $40 iPhone dock wasn't delivered because I wasn't home. 🧐
My wife made me a delicious vegan chocolate cake today. 🥳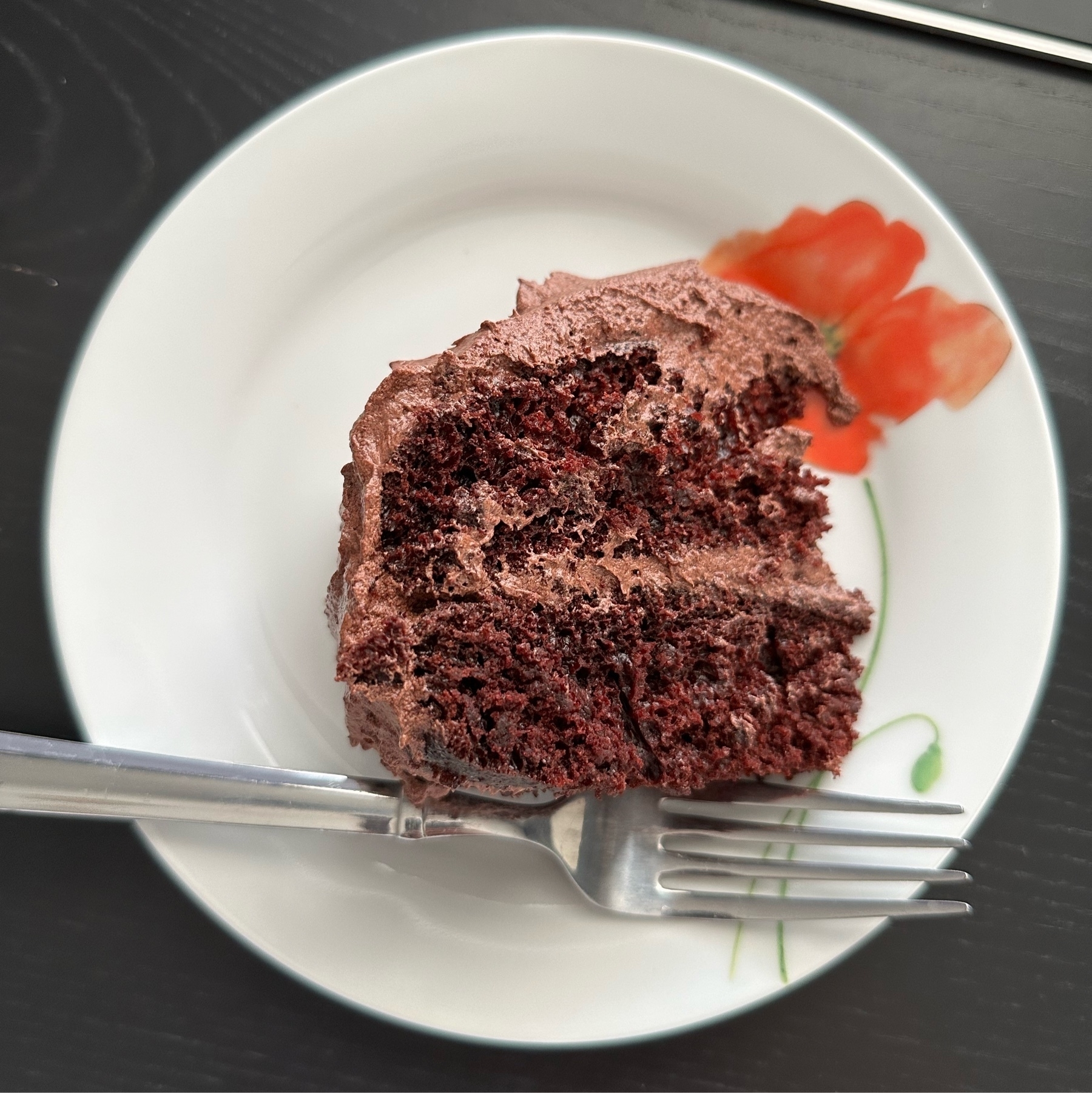 Just over a week ago today, I released my first app to the iOS App Store. If you're really curious, you can find it here.
Spoiler: it requires an Apple Music subscription to really work.
I have a 1.1 coming soon with some bug fixes and improvements from my small TestFlight community. Send me a message/email/smoke signal if you want to be on future beta tests.
It's really freeing to be so unknown that I can release something that I'm not entirely happy with and not feel a large amount of stress over it. Maybe one day that will change. Here's hoping.
P.S. here's the little website I made for the app.
I'm working on an iOS app and I'm getting so close to releasing the 1.0. I was looking at App Store Connect and noticed that I needed screenshots and I remembered that Fastlane has the ability to automate screenshot creation.
Pretty cool I think. So I go through the process of setting up and starting to work on the UI Tests that need to run in order to trigger the screens I want to show and then it hits me.
The app I'm working on uses MusicKit and unfortunately the Xcode Simulators aren't able to really do anything with MusicKit i.e. they can't search or play music which is kind of a big deal. This hadn't been much an issue during development because I could just run the app on my phone.
From what I can tell I will not be able to use Fastlane to automate this screenshot creation because it relies on using simulators for running the UI Tests that would then capture screenshots. What a bummer (though I sure hope I'm wrong!).
Fortunately I found another resource from Benoit Pasquier that might make it possible for me to use UI Tests to automate screenshots to some degree. It won't be quite as extensive, but my wife has a regular sized iPhone and I have a big one so at least I'll have two sets of screenshots. No luck on the iPhone SE size. Hopefully that isn't a dealbreaker, but we'll see. This is all very new to me.
This is my first time writing (re: rambling) about this app and if you'd like to hear more or be invited to the TestFlight, feel free to comment on this post or shoot me an email at nick_kaczmarek@icloud.com.
Cheers 🥂
First day of the fall feast. I love eating this food so much. Tried crockpot mashed potatoes today and boy was it a lot easier.